Saturday, January 29, 2005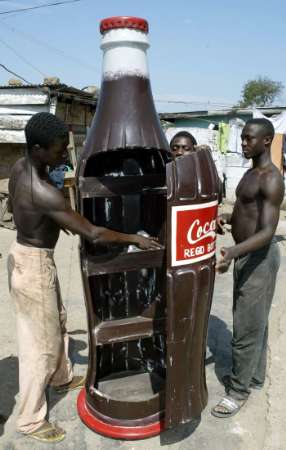 "Isaac Adjetey Sowah is the manager of the family business his grandfather started.

And at only 22 he has seen it all and he has made it all.

Coffins crafted as hammers, fish, cars, mobile phones, hens, roosters, leopards, lions, canoes, cocoa beans and several elephants.

Many of their clients want to bury loved ones in something that reflects their trade.

Even if that means being buried in a Coca-Cola bottle."
---
I just love
this article
!
Have a Nice Day !
Tuesday, January 25, 2005
Dwindling Supplies
Friday, January 14, 2005
Politicians in the Australian state of Victoria
have been asked to donate sperm to replenish dwindling supplies.
...Sperm stocks have become depleted since a 1998 law ordered donors to agree to have their identities revealed when a child turns 18.
There have not yet been any replies. (surprise surprise)
Minimal English
Wednesday, January 12, 2005
Students in a Harvard English 101 class were asked to write a concise essay containing four elements: religion, royalty, sex and mystery. The only A+ in the class read:
"My God," said the Queen, "I'm pregnant! I wonder who did it."