Baseball !
Thursday, April 21, 2005
I finally got to a baseball game! Yes, there is son #3 wearing uniform #3. The backdrop for the baseball diamond is the beautiful Cascade Mountains.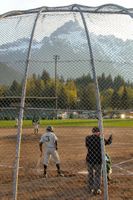 The boys won, 11-1. It was a slow rather uneventful game, and very relaxing. The fat laden hotdogs smelled great. The ump asked who had the peanuts. I wished I had a cell phone so I could phone to my audio blog. Ahhhh...the sounds of baseball are the best.
CRACK!
---
How and why can I ever sell my little spot in this rich landscape?
I'll tell you more tomorrow, I think.
Oh...I didn't have the hotdog. I went home and had a vege samosa for dinner.
5 Comments: