Karma
Sunday, May 08, 2005
It is apparently this cat's karma to be abandoned from time to time by owners who move to places the cat cannot follow. I adopted Smitty a couple of years ago. He belonged to the sister of one of my son's girlfriends, until she moved.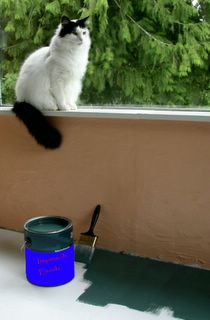 Smitty hates dogs with a passion. And so Whisper had to adjust to the fact that not everyone loves her. Smitty spent his first two months here hiding in the laundry room out of fear of the dog. I tried to help him feel secure because I knew Whisper loves cats and would not harm Smitty. But fear is fear and it took a long time for peace to break out.
It is not realistic for us to have the cat live with us in the RV. The cat would not be at all happy traveling. I think it is better that he find a new home...a home without dogs. This is one of the sadder facts of our pending transition, but I will find him a good home.
2 Comments: