My Cow Accident
Tuesday, May 10, 2005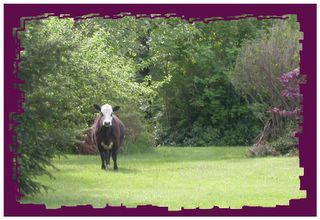 I was folding laundry when I glanced out the large picture window to see a cow staring at me. He was only 10 yards from the house, so I went to get my camera. Meanwhile, our cow dog, Whisper, remained fast asleep.
When I got back to the window, the cow had moved another 20 yards back. I decided I needed to lean out the side window of the living room to get a good shot. And so it was that I sat on the curtain which yanked the rod from the wall to fall upon my head.
It's not every day one has a cow accident. I got the shot, though. This is the culprit in our backyard.
The cow bolted back to his pasture. It takes more than one cow to have a stampede...right?
------------------------------
stampede -
n.
1) A sudden frenzied rush of panic-stricken animal
s
------------------------------
I liked it better when the neighbors kept horses. Horses smell better. Yes, I admit it. I have a cow prejudice.
The neighbors only keep a half dozen head; and most days the wind blows eastward...away from us.
0 Comments: